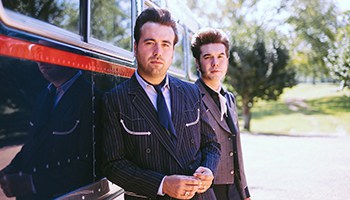 Sounds of the Mountains – The Malpass Brothers with special guests The Foreign Landers (NEW DATE/SOLD OUT)
The Malpass Brothers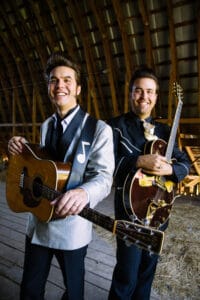 As young boys, Christopher and Taylor Malpass soaked up the music of their granddad's phonograph records. Christopher earned his first talent show trophy at age 7, and Taylor was playing mandolin by the time he was 10. Today, they promote the work and music of classic country artists they treasure while creating new music and making their own mark in the lineage of a rich American cultural heritage.
With sincerity, honesty and an utter ease on stage that belies their years, their smooth vocal blend and skillful musicianship layer infectiously into the deep respect they pay to legends who have paved the way. Add the funny, off-the-cuff quips between the two 20-something siblings, and the engaging concert becomes a magnetic time-traveling journey to when a calmer rhythm reigned supreme.
The Malpass Brothers toured with the late Don Helms, former steel guitarist for Hank Williams, have opened for music legend Merle Haggard on multiple tours and appeared on stages from the Shetland Islands to Ryman Auditorium to Merlefest. Gifted musicians and songwriters, the brothers have shared billing with artists including Ray Price, Willie Nelson, Doyle Lawson, Rhonda Vincent, Marty Stuart, Doc Watson and more. The title cut video from their "Memory That Bad" album hit CMT Pure Country's Top Ten. Their most recent self-titled recording, produced by bluegrass legend Doyle Lawson, was released by Crossroads' Organic Records in 2015.
If you like cornbread & hush puppies, you're gonna love the Malpass Brothers. If you like sweet tea, barbecue & collards, you're gonna love the Malpass Brothers. If you like clean fresh air over a freshly-plowed field, if you like a great big ol' corn puddin' at a homecoming covered dish, you're gonna love the Malpass Brothers. That's a promise. (And you don't lie about a covered dish supper.)
This is the real deal, folks. There is no pretense. This is music steeped in the legacy of the Louvin Brothers, Johnny Cash, Marty Robbins, Hank Williams, Sr. & others. Count on classic, real country. Count on new Malpass tunes. Count on a couple of old-time traditional gospels. Count on their probably coming down into the house at intermission and asking what you'd like to hear. Count on giggles and ribbing between brothers. Count on some big hair and fancy boots and maybe even an Elvis twitch or two. Count on lines at the merch table – and count on logging on to find out where and how soon you'll be able to see them next!
LEARN MORE ABOUT THE ARTIST
https://themalpassbrothers.com/

The Foreign Landers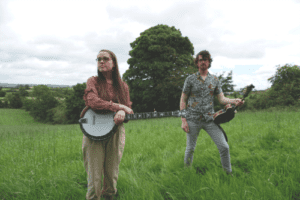 The Foreign Landers is a duo hailing from opposite sides of the Atlantic united by their love of bluegrass and traditional folk music and their love for each other. Together they combine the musical styles of their respective homelands, along with their instrumental prowess and haunting vocals to create something new.
It was more than unlikely circumstances that brought these two together. David Benedict grew up in South Carolina playing with the only Celtic folk band in town, while Tabitha Agnew was perhaps the only 12 year-old in Northern Ireland who started playing the 5-string banjo after a chance hearing of an Alison Krauss & Union Station record. Ironically, it took each a while to discover the traditional music of their own countries, but they eventually came around. Both excelled at their instruments and found themselves playing with some of the most promising young acoustic bands on the scene today—David with the Boston-band Mile Twelve and Tabitha with both Cup O'Joe and Midnight Skyracer from the UK. With such unique common threads, there was an instant connection when Tabitha and David finally met.
Now married and based in the States, the Benedicts are finally making music on their own. Their debut EP Put All Your Troubles Away marks the first chapter in their journey together, and this adventurous recording will take you along with them to uncharted musical territories.
LEARN MORE ABOUT THE ARTIST
https://www.theforeignlanders.com/
About Yadkin Arts Council
Yadkin Arts Council's mission is to transform and enrich the lives of every citizen, and visitor, of Yadkin County through a broad variety of arts programs, including live theater.
About Willingham Theater
Willingham Theater is located at 226 E. Main Street Yadkinville, NC 27055.
Seating is general admission for all shows, and while there is not a bad seat in the house, we recommend you arrive early for optimal seating options.
Willingham Theater is ADA accessible – please let us know if you have any special seating requests by calling 336-679-2941 prior to the day of  the performance.
If you have any questions about the ticket purchasing process you can call our box office at 336-679-2941.
Box Office Hours:
(Mon-Fri) 10am-5pm & one hour before show time