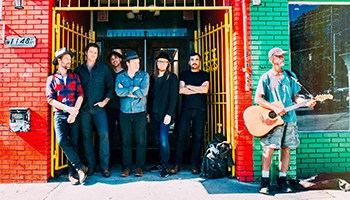 Steep Canyon Rangers with Lakota John
SOLD OUT!
Steep Canyon Rangers + Lakota John
Saturday, July 10, 7 p.m.
Adults $40, $20 for children 12 & younger
Steep Canyon Rangers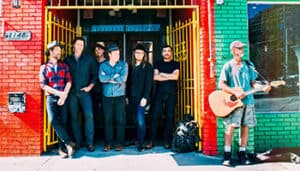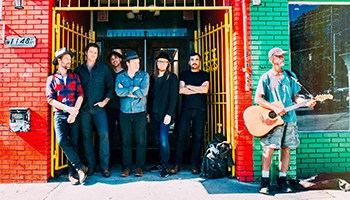 Steep Canyon Rangers of Asheville, North Carolina, are Grammy winners, perennial Billboard chart-toppers, and frequent collaborators of the renowned banjoist (and occasional comedian) Steve Martin. 
In 2020, the Steep Canyon Rangers released two albums on Yep Roc Records. The North Carolina Songbook which is a recording of their live performance of all North Carolina Songwriters performed at MerleFest in 2019. Their other release, Be Still Moses, is perhaps their most singular musical partnership to date—teaming with Philadelphia soul legends Boyz II Men and the Asheville Symphony to overhaul the Rangers' original "Be Still Moses," which was first recorded on their 2007 breakout album Lovin' Pretty Women.
The band members are Woody Platt on guitar and vocals, Graham Sharp on banjo and vocals, Mike Guggino on mandolin/mandola and vocals, Nicky Sanders on fiddle and vocals, Mike Ashworth on drums and vocals, and Barrett Smith on bass and vocals.
LEARN MORE ABOUT THE ARTIST
https://www.steepcanyon.com
Lakota John
As a child, John Lakota Locklear picked up his sister's discarded guitar and began "fooling around with it." "[I] just put my fingers on the neck and, and hit some random things," he recalls. Not long after, a local music teacher taught him his first three chords—G, C, and D—and he never looked back. He cites musical greats like Jimi Hendrix, Reverend Gary Davis, and Etta Baker as some of his main influences, teaching him timing and how to combine the simple and the complex together seamlessly.
Like most great musicians, Lakota John speaks through his instrument, communicating with his audience. He leaves space and breathing room in between heartfelt notes, and he bends his thumb around the top of the neck to hit bass notes that punctuate jaunty ragtimes and lilting blues numbers.
And though John plays ragtime and blues, he still "represents native," and speaks proudly of his Lumbee and Lakota Sioux ancestry. He also uses his guitar as a symbol—an eagle feather is tied to his instrument, and it is important for him that people know that he's proud to be Native American.
LEARN MORE ABOUT THE ARTIST
Lakota John
Additional Concert Details
Gates open to ticket holders at 5:45 p.m. Season pass holders are allowed into the amphitheater 15 minutes early, at 5:30 p.m.
For more information, view our concert FAQs
Safety Guidelines for Concert Attendees
The socially distanced concert will be held in the Blue Ridge Music Center's spacious outdoor amphitheater on the Blue Ridge Parkway. The Music Center is taking several precautions during concerts to make the experience as safe as possible for visitors. Those who have a fever, cough, aches and pains, loss of smell or taste, difficulty breathing, or are sneezing and coughing, are asked to please stay at home.
Concert attendees must maintain six feet of distance between groups throughout the evening, including when standing in line and selecting seating locations in the amphitheater; and when in high traffic areas, concertgoers must wear a mask to protect others.
Added precautions may slow entry to the amphitheater, so arriving early is encouraged.