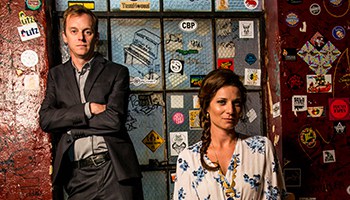 Symphony Unbound Presents Hank, Pattie & the Current with the WSS String Quartet
Symphony Unbound Presents Hank, Pattie & The Current with the Winston-Salem Symphony String Quartet
Saturday, June 12, 7 p.m.
Adults$20 in advance, $25 day of show; Children 12 & younger admitted free
Hank, Pattie & the Current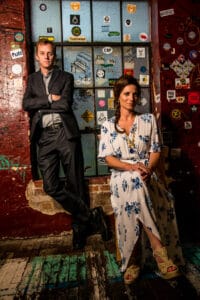 Two of North Carolina's veteran bluegrass musicians, Hank Smith on Banjo and Pattie Hopkins Kinlaw on fiddle, join forces with some of the most versatile musicians in the Carolinas to create modern, American, acoustic music featuring the full range of their talents as composers and arrangers.
The band makes use of traditional bluegrass instrumentation in a nontraditional way to present original music to the listener that goes beyond the limits of the idiom. Hank, Pattie & The Current want to pick up where seminal crossover groups like The Punch Brothers, Strength In Numbers and the ever-changing Bluegrass Allstars call home.
The music is vocal and instrumental, allowing the band to experiment with arrangements and tailor the compositions to become vehicles for exploration. Hank Smith plays banjo, Pattie Hopkins Kinlaw plays fiddle and is lead vocalist. The Current includes Billie Feather on guitar and Stevie Martinez on bass.
LEARN MORE ABOUT THE ARTIST
Hank, Pattie & The Current
Winston-Salem Symphony String Quartet

The Winston-Salem Symphony's mission is to to bring music to life. Believing that music has the power to inspire, the Symphony desires for audiences to experience music in a way that is relevant and meaningful to their own lives.
Through their Symphony Unbound series, they bring music out of the concert hall and into the community, collaborating with musicians from other genres.
In this performance, a string quartet collaborates with Hank, Pattie, & The Current. The evening will begin with a set by the String Quartet, followed by a set with Hank, Pattie, & The Current, and finishing with a set with both groups.
LEARN MORE ABOUT THE ARTIST
Winston-Salem Symphony
Additional Concert Details
Gates open to ticket holders at 5:45 p.m. Season pass holders are allowed into the amphitheater 15 minutes early, at 5:30 p.m.
For more information, view our concert FAQs
Safety Guidelines for Concert Attendees
The socially distanced concert will be held in the Blue Ridge Music Center's spacious outdoor amphitheater on the Blue Ridge Parkway. The Music Center is taking several precautions during concerts to make the experience as safe as possible for visitors. Those who have a fever, cough, aches and pains, loss of smell or taste, difficulty breathing, or are sneezing and coughing, are asked to please stay at home.
Concert attendees must maintain six feet of distance between groups throughout the evening, including when standing in line and selecting seating locations in the amphitheater; and when in high traffic areas, concertgoers must wear a mask to protect others.
Added precautions may slow entry to the amphitheater, so arriving early is encouraged.