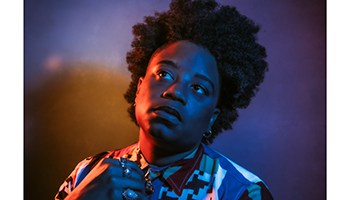 Amythyst Kiah with Aaron Burdett
Amythyst Kiah + Aaron Burdett
Saturday, June 19, 7 p.m.
Adults $25; Children 12 & younger admitted free
Amythyst Kiah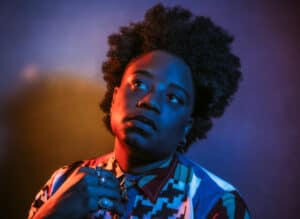 With an unforgettable voice that's both unfettered and exquisitely controlled, the Tennessee-raised singer-songwriter expands on her uncompromising artistry. Her standout song "Black Myself" earned a Grammy nomination for Best American Roots Song and won Song of the Year at the 2019 Folk Alliance International Awards.
When combined with the transcendent quality of her elevated sound, what emerges is an extraordinary vessel for Kiah's songwriting: a raw yet nuanced examination of grief, alienation, and the hard-won triumph of total self-acceptance.
Following up her recording with Our Native Daughters, a women-of-color supergroup, Kiah will be unveiling a new solo recording project in June.
LEARN MORE ABOUT THE ARTIST
https://www.amythystkiah.com/
Aaron Burdett
Aaron Burdett is an acclaimed Americana and folk singer-songwriter and performer from Western North Carolina, and is listed as one of the most important musicians of that region by WNC Magazine. He's won top awards in multiple songwriting competitions hosted by MerleFest, The USA Songwriting Competition, Mountain Stage, the North Carolina Songwriter's Co-op, and Our State Magazine.
Burdett's last four albums have been voted top 20 Albums of the Year by listeners of the popular Western Carolina community radio station, WNCW 88.7.
LEARN MORE ABOUT THE ARTIST
www.AaronBurdett.com
Additional Concert Details
Gates open to ticket holders at 5:45 p.m. Season pass holders are allowed into the amphitheater 15 minutes early, at 5:30 p.m.
For more information, view our concert FAQs
Safety Guidelines for Concert Attendees
The socially distanced concert will be held in the Blue Ridge Music Center's spacious outdoor amphitheater on the Blue Ridge Parkway. The Music Center is taking several precautions during concerts to make the experience as safe as possible for visitors. Those who have a fever, cough, aches and pains, loss of smell or taste, difficulty breathing, or are sneezing and coughing, are asked to please stay at home.
Concert attendees must maintain six feet of distance between groups throughout the evening, including when standing in line and selecting seating locations in the amphitheater; and when in high traffic areas, concertgoers must wear a mask to protect others.
Added precautions may slow entry to the amphitheater, so arriving early is encouraged.