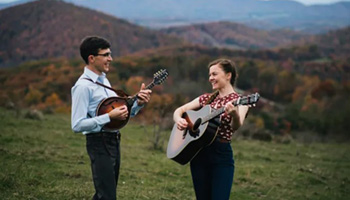 Ashlee Watkins & Andrew Small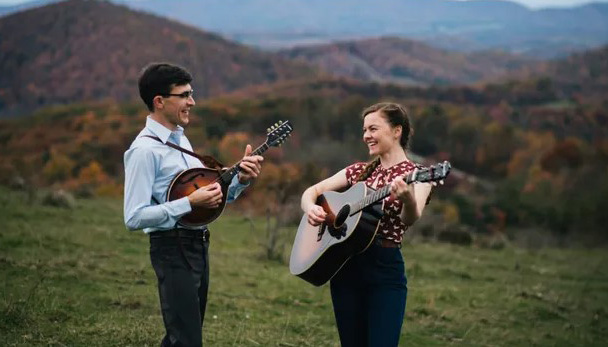 Based in the Blue Ridge Mountains of Southwest Virginia, Ashlee Watkins & Andrew Small perform music together in a variety of styles including Bluegrass, Country, Old Time, Folk, and Americana. Featuring their exquisite blend of vocal harmony, the duo's versatile sound includes a range of acoustic instrumentation from fiddle and banjo tunes to mandolin and guitar numbers and more. Their music has been featured on radio, recordings, podcasts, film, and television. Hosts of the monthly Floyd Radio Show at the historic Floyd Country Store, the duo have performed near and far, capitivating audiences around the globe with their stirring harmonies and hard-hitting old-time sound.
Award-winning songwriters, Ashlee and Andrew provided the soundtrack and original theme music for the documentary Rock Castle Home, an award-winning documentary film telling the story of an isolated mountain community and its descendants, the history of the Blue Ridge Parkway, and it explores the importance of holding onto stories and a sense of place. They also provided the soundtrack and original theme music for Season 1 of the podcast The Green Tunnel, part of the a project centering on Appalachian Trail Histories telling the stories of the people who have made the trail what it is today, and exploring how those stories fit into the larger history of the place.
More About the Band
About Milepost Music
Milepost Music brings the the Blue Ridge Music Center to outdoor locations along the Parkway.
Milepost Music is a FREE concert featuring local and regional artists. It's held on Sundays, 1-3 p.m., at various locations along the Parkway. No tickets are needed. Bring your own chair.
About Mabry Mill, Milepost 176
Mabry Mill is the most photographed spot on the Parkway. Ed and Lizzy Mabry built the mill, where they ground corn, sawed lumber, and did blacksmithing for three decades. The old mill, cultural demonstrations, and a decades-long tradition of Sunday afternoon music continue to draw visitors today. Take a break from driving with a short walk by the mill or some country fare at the restaurant.
Mabry Mill concerts are held the second Sunday of the month, June through September. Concerts are held outdoors near the sorghum shed. Bring a chair and sit a while to hear some some of the best local musicians as they regale you with music and stories about the local musical traditions.