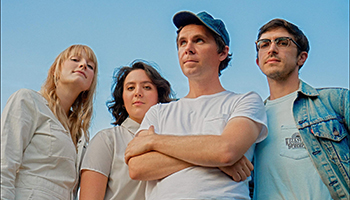 Bill and the Belles + ShadowGrass
Bill and the Belles + ShadowGrass
Saturday, July 16, 7 p.m.
Adults $20, children 12 & younger admitted free
Bill and the Belles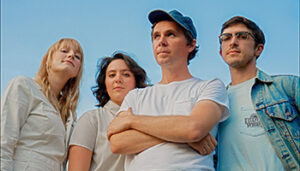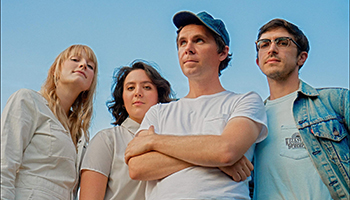 Bill and the Belles began as a project to explore the sounds between rural and urban music, between vaudeville and down-home roots, but they've arrived somewhere wholly their own. They revel in the in-between: deeply engaged with the stringband tradition and eager to stretch those influences to contemporary settings.
Bill and the Belles is Kris Truelsen on guitar, fiddler Kalia Yeagle, bassist Andrew Small, and banjo/banjo-uke player Aidan VanSuetendael.
The group's 2021 release, Happy Again, isn't exactly happy. But the delightfully deadpan album is full of life, humor, and tongue-in-cheek explorations of love and loss and showcases  what happens when a stringband from East Tennessee lays down a session at Motown. It marks a new chapter for the group by featuring 11 original songs penned by founding member Truelsen. There's no dancing around it: this album is about his divorce. But the group has a knack for saying sad things with a bit of an ironic smirk, pairing painful topics with a sense of release and relief. 
Early fans of the band were hooked by their singing, and Happy Again continues to deliver stellar vocal trio arrangements, honed by fiddler Yeagle, that nod toward groups like The Ronettes and The Shangri-Las.
Learn More About the Artist
BillAndTheBelles.com
ShadowGrass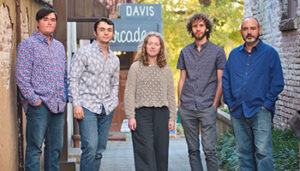 In the summer of 2014, a group of young musicians got together at local fiddler's conventions in Southwestern Virginia and Western North Carolina and formed a group that has become one of the most exciting young bands in bluegrass today. Since that time, they have won awards and played all across the United States sharing their love of music.
ShadowGrass can trace its roots to the forefathers of bluegrass. While fully embracing the traditions of the past, ShadowGrass is moving forward in the genre by incorporating each member's varied influences.
The band includes Kyser George on guitar, Luke Morris on mandolin, Clay Russell on banjo, David George on bass, and Madison Morris on fiddle.

Learn More About the Artist
ShadowGrass.band
ADDITIONAL CONCERT DETAILS
Gates open to ticket holders at 5:45 p.m. Season pass holders are allowed into the amphitheater 15 minutes early, at 5:30 p.m.
Bring a chair or blanket to sit on. You may bring a coolers or picnic basket, but no alcohol please.
Concerts are held rain or shine, and it can be cool in the mountains when the sun goes down, so bring a raincoat, poncho or umbrella, and a sweater or jacket.
Please note that advance ticket purchases are nonrefundable.
For more information, view our concert FAQs
SAFETY GUIDELINES FOR ATTENDEES
The Roots of American Music concert series is held in the Blue Ridge Music Center's spacious outdoor amphitheater on the Blue Ridge Parkway.
To make the experience as safe as possible, please stay at home if you have a fever, cough, aches and pains, loss of smell or taste, difficulty breathing, or are sneezing and coughing.
Concert attendees are asked to maintain six feet of distance between groups throughout the evening, including when standing in line and selecting seating locations in the amphitheater.