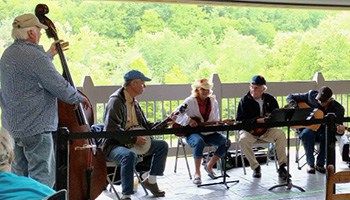 Blue Ridge Ramblers
The Blue Ridge Ramblers play a little bit of everything – bluegrass, old time, and folk (Americana). Our program would add appropriate information on mountain, regional, and local music, and respond to audience questions and song requests. With years of experience living in the shadow of the Blue Ridge Parkway, they are well versed in local traditions and stories. Come on out for tunes and tales about the music, dance, and instruments of the region.
Band members:
Ed Dalton (bass, guitar, vocals)
Glenn Paschal (banjo)
Mike Mears (fiddle, banjo, luthier)
Dea Felts (fiddle)
Jim Purcell (mandolin, bass, guitar, vocals)
Lynn Wolf (baritone uke, guitar, vocals, flatfooting)
About Midday Mountain Music
Midday Mountain Music is a FREE informal music presentation featuring local and regional artists. Midday Music is held noon – 4 p.m. on the covered open-air breezeway, every day the Blue Ridge Music Center visitor center is open. Join us for a few minutes or the whole afternoon. No tickets are needed.