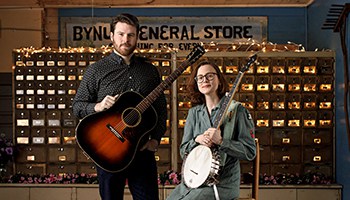 Chatham Rabbits with Kate Rhudy
Chatham Rabbits + Kate Rhudy
Saturday, August 7, 7 p.m.
Adults $25; Children 12 & younger admitted free
Chatham Rabbits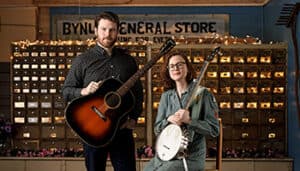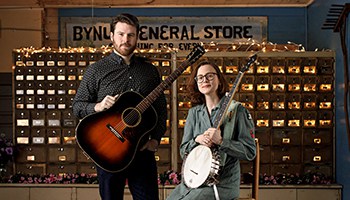 Chatham Rabbits exemplify North Carolina's tradition of producing artists who embrace the state's many cultural resources and diverse musical traditions. In their marriage and in their music, Chatham Rabbits' Austin and Sarah McCombie also blend their own histories into a shared musical experience. Sarah first took the stage as part of a trio known as the South Carolina Broadcasters, a band that harkened back to the old days of the Grand Ole Opry and AM radio country classics. Meanwhile, Austin played keyboards and guitar for an electronic band called DASH.
Given these histories, how would Chatham Rabbits describe their musical marriage? "We're not purists," Austin says." And we're certainly not the hippest," Sarah adds. "But we've been able to belong nowhere and everywhere at the same time." With their first album, 2018's All I Want from You, Chatham Rabbits shared the many stories they'd heard over their years growing up in North Carolina. With The Yoke Is Easy, the Burden Is Full, they're sharing their own stories. – author Wiley Cash
LEARN MORE ABOUT THE ARTIST
ChathamRabbits.com
Kate Rhudy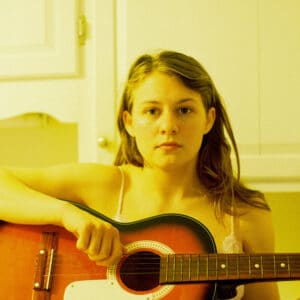 Raleigh-based songwriter Kate Rhudy worked alongside collaborator and producer Andrew Marlin of Mandolin Orange to create her 2017 debut, Rock N' Roll Ain't For Me, which earned Rhudy nods from WUNC and INDY Week as "one of the Triangle's sharpest young songwriters".
Rhudy's plainspoken lyrics garnered recognition from She Shreds, "Kate Rhudy is changing the name of country by doing things her own way" and The Strangers Almanac, "for those tired of Americana music from the male perspective, give Kate Rhudy's debut a shot".
In October of 2020, Rhudy released a 7-inch record "Dance It Away, Snake", including the single "Dance It Away" featured on Spotify's Infinite Indie Folk playlist.
LEARN MORE ABOUT THE ARTIST
Kate Rhudy
Additional Concert Details
Gates open to ticket holders at 5:45 p.m. Season pass holders are allowed into the amphitheater 15 minutes early, at 5:30 p.m.
Bring a chair or blanket to sit on. You may bring a coolers or picnic basket, but no alcohol please.
Concerts are held rain or shine, and it can be cool in the mountains when the sun goes down, so bring a raincoat, poncho or umbrella, and a sweater or jacket.
Please note that advance ticket purchases are nonrefundable.
For more information, view our concert FAQs
Safety Guidelines for Concert Attendees
The Roots of American Music concert series is held in the Blue Ridge Music Center's spacious outdoor amphitheater on the Blue Ridge Parkway.
To make the experience as safe as possible, please stay at home if you have a fever, cough, aches and pains, loss of smell or taste, difficulty breathing, or are sneezing and coughing.
Concert attendees are asked to maintain six feet of distance between groups throughout the evening, including when standing in line and selecting seating locations in the amphitheater.