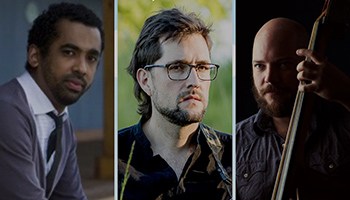 Joe Troop Trio with Tray Wellington Band
Joe Troop (of Che Apalache) Trio + Tray Wellington Band
Saturday, August 28, 7 p.m.
Adults $20; Children 12 and younger admitted free of charge
Joe Troop Trio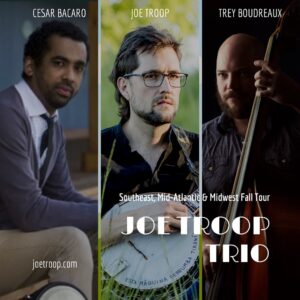 Joe Troop is a multi-instrumentalist and singer-songwriter from Winston-Salem, North Carolina. During his decade in Buenos Aires, Argentina, he formed the group Che Apalache with three of his students. The band's second album, Rearrange My Heart, was produced by legendary genre-bender, banjoist Béla Fleck and received a GRAMMY nomination for Best Folk Album in 2020. Unfortunately, the pandemic has made international touring all but impossible, forcing Che Apalache into hiatus.
Working in a style dubbed "latingrass," Joe melds music from the Appalachian foothills with traditional soundscapes from across Latin American. He composes wry and well-traveled acoustic music, sung in English and Spanish. Wrenching old-time music into the world of contemporary global politics, Joe creates spaces for sympathy, solidarity, and a little humor. His new solo album "Borrowed Time" featuring Charlie Hunter, Béla Fleck and Abigail Washburn, Tim O'Brien and many more superb musicians comes out August 20th on Free Dirt Records. Immediately following its release Joe will be touring the Southeast, Mid-Atlantic and Midwest with a new Louisiana based trio featuring two powerhouse musicians: ​​César Bacaró and Trey Boudreaux.
​​César Bacaró is a preeminent percussionist from the city of Santa Clara, Villa Clara, Cuba. As a young child he developed a deep passion for music and at age 7 enrolled in The Vocational School of Art (EVA) Olga Alonso in Santa Clara. In a career spanning 25 years he has played all over Latin America and Europe but now hangs his hat in New Orleans, where he plays with several bands and slaps his sazón cubano all over The Big Easy.
Trey Boudreaux grew up surrounded by Creole and Cajun music in Lafayette, LA. His parents also provided a constant flow of new sounds at home. Learning music both from his father and in school, Trey developed skills in a wide range of styles and quickly became an in-demand bassist, carving out his own special place in the New Orleans music community. He now lends his commanding and energetic groove to countless artists in and beyond South Louisiana.
LEARN MORE ABOUT THE ARTIST
https://joetroop.com
Tray Wellington Band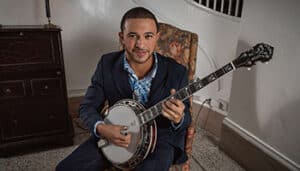 Trajan "Tray" Wellington's love for music bloomed at an early age while he listened to his grandpa play diverse styles of music. From learning traditional bluegrass to studying diverse genres such as jazz, progressive bluegrass, blues, rock, and more, Tray has gone on to play with some of the most accomplished musicians in the world.
Before reaching the age of 21, Wellington has received a number of awards and accolades, including two awards from IBMA — 2019 IBMA Momentum Instrumentalist of the Year and 2019 Momentum Band of the Year (with Cane Mill Road).
LEARN MORE ABOUT THE ARTIST
Tray Wellington
Additional Concert Details
Gates open to ticket holders at 5:45 p.m. Season pass holders are allowed into the amphitheater 15 minutes early, at 5:30 p.m.
Bring a chair or blanket to sit on. You may bring a coolers or picnic basket, but no alcohol please.
Concerts are held rain or shine, and it can be cool in the mountains when the sun goes down, so bring a raincoat, poncho or umbrella, and a sweater or jacket.
Please note that advance ticket purchases are nonrefundable.
For more information, view our concert FAQs
Safety Guidelines for Concert Attendees
The Roots of American Music concert series is held in the Blue Ridge Music Center's spacious outdoor amphitheater on the Blue Ridge Parkway.
To make the experience as safe as possible, please stay at home if you have a fever, cough, aches and pains, loss of smell or taste, difficulty breathing, or are sneezing and coughing.
Concert attendees are asked to maintain six feet of distance between groups throughout the evening, including when standing in line and selecting seating locations in the amphitheater.