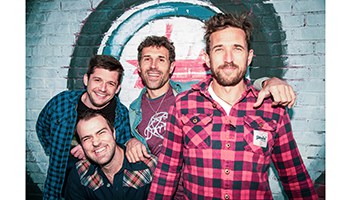 Scythian with Spencer Branch
Scythian + Spencer Branch
Saturday, June 5, 7 p.m.
Adults $25; Children 12 & younger admitted free
Scythian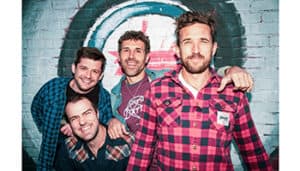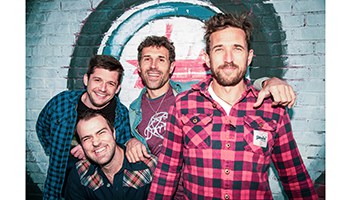 Scythian (pronounced sith-ee-yin) has grown to be a headliner on the Celtic and bluegrass/Americana festival circuits. The Washington Post wrote that "Scythian's enthusiasm is contagious, and shows seem to end with everyone dancing, jumping around or hoisting glasses." For more than 12 years they have toured across the United States, Europe, Canada, and Australia.
From its start, Scythian has been a search and love for the "old time, good time music" of many cultures. The group was founded by brothers Alexander and Danylo Fedoryka, who are first-generation sons of Ukrainian immigrants. They were inspired by a tale told by their 92-year-old grandmother of a roving fiddler who visited her farming village every year. When he arrived, everyone gathered in the barn to dance their cares away all night. Their success is due largely to finding a resonance of soul amongst kindred spirits that span all ages and races.
LEARN MORE ABOUT THE ARTIST
scythianmusic.com
Spencer Branch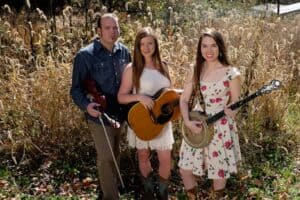 Spencer Branch is the collaboration of siblings Martha and Kilby Spencer from Whitetop Mountain, Virginia, along with North Carolina native, Kelley Breiding. Their music, a blend of original and traditional songs, draws from their mountain heritage, as well as traditional country and bluegrass. Their stunning vocal harmonies and rousing fiddle tunes are a powerful combination.
LEARN MORE ABOUT THE ARTIST
Spencer Branch
Additional Concert Details
Gates open to ticket holders at 5:45 p.m. Season pass holders are allowed into the amphitheater 15 minutes early, at 5:30 p.m.
For more information, view our concert FAQs
Safety Guidelines for Concert Attendees
The socially distanced concert will be held in the Blue Ridge Music Center's spacious outdoor amphitheater on the Blue Ridge Parkway. The Music Center is taking several precautions during concerts to make the experience as safe as possible for visitors. Those who have a fever, cough, aches and pains, loss of smell or taste, difficulty breathing, or are sneezing and coughing, are asked to please stay at home.
Concert attendees must maintain six feet of distance between groups throughout the evening, including when standing in line and selecting seating locations in the amphitheater; and when in high traffic areas, concertgoers must wear a mask to protect others.
Added precautions may slow entry to the amphitheater, so arriving early is encouraged.