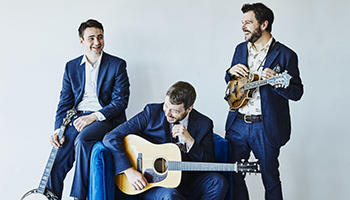 Slocan Ramblers + Nobody's Business
The Slocan Ramblers + Nobody's Business
Saturday, August 20, 7 p.m.
Adults $20, children 12 & younger admitted free
The Slocan Ramblers
The Slocan Ramblers are Canada's bluegrass band to watch. Rooted in tradition, fearlessly creative and possessing a bold, dynamic sound, The Slocan Ramblers  have become a leading light of today's acoustic music scene. The group claimed the 2020 IBMA Momentum Band of the Year Award. With a reputation for energetic live shows, impeccable musicianship, and an uncanny ability to convert anyone within earshot into a  fan, the group has been winning over audiences from MerleFest to RockyGrass and everywhere in between.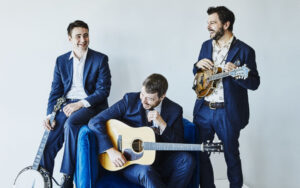 The Slocan Ramblers showcase their unique blend of bluegrass, old-time, and folk with deep songwriting, lightning fast instrumentals, and sawdust-thick vocals on their album, Queen City Jubilee, a 2019 Juno Award Nominee for Traditional Roots Album of the Year.
With their trademark raucous energy, this album presents the band at the top of their game. This is roots music without pretension, music to make you feel something.
The Slocan Ramblers are Frank Evans on banjo and vocals, Adrian Gross on mandolin, Darryl Poulsen on guitar and vocals. 
Learn More About the Artist
SlocanRamblers.com
Nobody's Business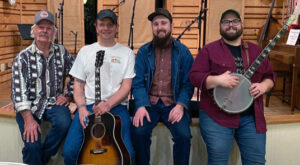 Nobody's Business plays traditional first generation bluegrass, old time and classic era country. The band members are Trevor McKenzie on fiddle, Stu Geisbert on bass, Corbin Hayslett on banjo, and Jackson Cunningham on guitar.

Learn More About the Artist
Nobody's Business (Facebook)
ADDITIONAL CONCERT DETAILS
Gates open to ticket holders at 5:45 p.m. Season pass holders are allowed into the amphitheater 15 minutes early, at 5:30 p.m.
Bring a chair or blanket to sit on. You may bring a coolers or picnic basket, but no alcohol please.
Concerts are held rain or shine, and it can be cool in the mountains when the sun goes down, so bring a raincoat, poncho or umbrella, and a sweater or jacket.
Please note that advance ticket purchases are nonrefundable.
For more information, view our concert FAQs
SAFETY GUIDELINES FOR ATTENDEES
The Roots of American Music concert series is held in the Blue Ridge Music Center's spacious outdoor amphitheater on the Blue Ridge Parkway.
To make the experience as safe as possible, please stay at home if you have a fever, cough, aches and pains, loss of smell or taste, difficulty breathing, or are sneezing and coughing.
Concert attendees are asked to maintain six feet of distance between groups throughout the evening, including when standing in line and selecting seating locations in the amphitheater.