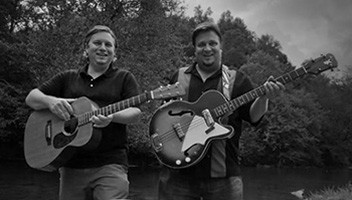 Sounds of the Mountains – The Harris Brothers with special guests The Burnett Sisters Band
The Harris Brothers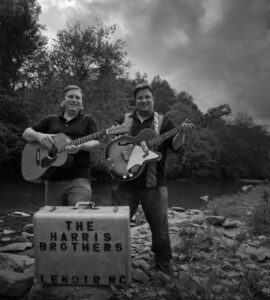 Reggie and Ryan Harris are a real brother duo born and raised in Western North Carolina where they were exposed to a wide variety of music from an early age.
The Harris Brothers started playing string instruments and singing as small children and are part of a musical family that still gets together to play. They have been playing professionally as a duo for more than twenty years, showcasing their unique style.
Their infinite live repertoire consists of any number of genres including traditional roots music, rock & roll, jazz, blues, Appalachian mountain music, to vintage country and bluegrass. A typical live show effortlessly shifts from original tunes to their own arrangements of songs from all sides of the Americana musical spectrum.
LEARN MORE ABOUT THE ARTIST
http://www.theharrisbrothers.com

The Burnett Sisters Band
For the Burnett Sisters Band, it's all about family. ​Growing up playing music together in Boone, North Carolina, the sisters' sound is focused around the type of breathtaking vocal harmonies that can only come from the unique bond shared by siblings, expertly complemented by tight instrumental arrangements and a bona fide love of the traditional songs they play.
​With a repertoire that's equal parts old-time and bluegrass, country and gospel, this Billboard charting band navigates the diverse source material effortlessly, diving into the songs with an attention to detail and an appreciation for nuance that lends an authenticity and a feeling of genuine expression rarely matched in today's traditional music.
​With the release of their record, "Long Way From Home", The Burnett Sisters Band has captured a snapshot of their eclectic live sound in the studio, with tracks spanning from Townes Van Zandt's "Colorado Girl" featuring Jacob Burleson, to Doc Watson's classic rendition of "Walk on Boy," featuring Wyatt Rice. The Burnett Sisters Band's freshman offering captures the polished, professional feel of their live shows that have wowed audiences across the country, and already the album is making waves, landing at #1 on the Airplay Direct charts for the first week of February 2020 and hitting #5 on the Billboard Bluegrass Album charts.
LEARN MORE ABOUT THE ARTIST
https://www.burnettsistersband.com/
About Yadkin Arts Council
Yadkin Arts Council's mission is to transform and enrich the lives of every citizen, and visitor, of Yadkin County through a broad variety of arts programs, including live theater.
About Willingham Theater
Willingham Theater is located at 226 E. Main Street Yadkinville, NC 27055.
Seating is general admission for all shows, and while there is not a bad seat in the house, we recommend you arrive early for optimal seating options.
Willingham Theater is ADA accessible – please let us know if you have any special seating requests by calling 336-679-2941 prior to the day of  the performance.
If you have any questions about the ticket purchasing process you can call our box office at 336-679-2941.
Box Office Hours:
(Mon-Fri) 10am-5pm & one hour before show time