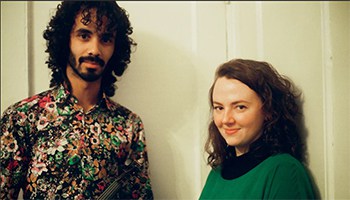 Tui with The Dedicated Men of Zion
Tui + Dedicated Men of Zion
Saturday, July 31, 7 p.m.
Adults $20; Children 12 & younger admitted free
Tui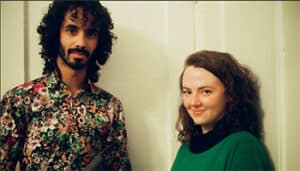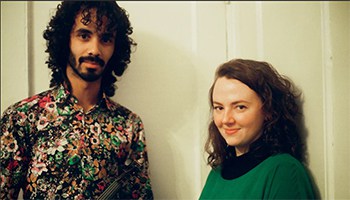 Tui (pronounced too-wee) is an internationally touring old-time duo made up of Jake Blount and Libby Weitnauer. They draw inspiration equally from rare archival recordings, the music of their peers, and extensive experiences with other genres of music. Tui's diverse influences enable them to create music that is innovative and technically demanding, yet accessible and affecting as only old songs can be. They released their debut album, Pretty Little Mister, in June 2019.
Jake Blount is a fiddler, banjo player and scholar. He has performed and recorded with acclaimed fiddler Tatiana Hargreaves and award-winning old-time string band The Moose Whisperers. In 2018, he and Hargreaves opened a series of shows for Grammy winner and MacArthur "Genius Grant" recipient Rhiannon Giddens, and in 2019, he won the Clifftop Appalachian Stringband Festival Banjo Contest. Jake centers and venerates his racial and ethnic heritage through his approach to music and its history.
Fiddler and singer Libby Weitnauer has degrees in classical violin performance from DePaul University and New York University, but she finds her voice in the traditional music of Appalachia. She has performed in a wide array of venues and concert halls, including the Smithsonian after a summer of research and music-making under the supervision of Grammy award-winner Dom Flemons. 
LEARN MORE ABOUT THE ARTIST
tuiband.com
Dedicated Men of Zion
Harmony is serious business where the Dedicated Men of Zion come from. For their eldest member Anthony "Amp" Daniels, it was so serious that every day his mother would call her children inside, turn off the television, and make them sing in harmony, talk in harmony, do everything in harmony. Singing well together was a virtue that she and her sisters had learned from their own father, and Anthony gave it to his children in return. Older folks in the Black communities of rural North Carolina relied on that singing for everything in a time when both respect and money were especially scarce. "That's where that seriousness is from," Amp remembers. "They demand respect. They're serious about what they do, and they don't play with God."
The Dedicated Men of Zion came up out of this singing land of eastern North Carolina, around the city of Greenville and its small neighboring town of Farmville. Each trained in the church and the home, the group's four vocalists – Anthony Daniels, Antoine Daniels, Dexter Weaver, and Marcus Sugg – share the bond of that upbringing, as well as the bond of kinship (they're all family now through blood or marriage).
LEARN MORE ABOUT THE ARTIST
Dedicated Men of Zion
Additional Concert Details
Gates open to ticket holders at 5:45 p.m. Season pass holders are allowed into the amphitheater 15 minutes early, at 5:30 p.m.
For more information, view our concert FAQs
Safety Guidelines for Concert Attendees
The socially distanced concert will be held in the Blue Ridge Music Center's spacious outdoor amphitheater on the Blue Ridge Parkway. The Music Center is taking several precautions during concerts to make the experience as safe as possible for visitors. Those who have a fever, cough, aches and pains, loss of smell or taste, difficulty breathing, or are sneezing and coughing, are asked to please stay at home.
Concert attendees must maintain six feet of distance between groups throughout the evening, including when standing in line and selecting seating locations in the amphitheater; and when in high traffic areas, concertgoers must wear a mask to protect others.
Added precautions may slow entry to the amphitheater, so arriving early is encouraged.