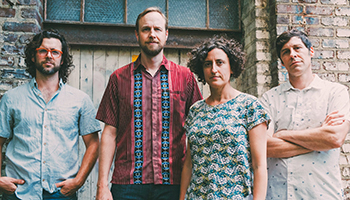 Zoe & Cloyd + The Burnett Sisters Band with Colin Ray
Zoe & Cloyd + The Burnett Sisters Band with Colin Ray
Saturday, June 25, 7 p.m.
Adults $20, children 12 & younger admitted free
Zoe & Cloyd
Zoe & Cloyd delight audiences of all ages with soaring harmonies and heartfelt songwriting, seamlessly combining original bluegrass, klezmer, old-time, and folk with sincerity and zeal.
Hailing from opposite ends of the Appalachian mountains, Zoe & Cloyd is composed of  renowned fiddler and vocalist Natalya Zoe Weinstein and award-winning songwriter, multi-instrumentalist, and vocalist John Cloyd Miller.
Their show is as diverse as their upbringing. Coming from a lineage of klezmer and jazz musicians, Weinstein trained classically in her home state of Massachusetts before moving south in 2004. Miller, a 12th generation North Carolinian and grandson of pioneering bluegrass fiddler, Jim Shumate, earned first place in the prestigious Chris Austin Songwriting Contest as well as an Artist Fellowship for songwriting from the North Carolina Arts Council. Both Weinstein and Miller are instructors in the Traditional Music Program at Warren Wilson College in North Carolina.
Longtime fixtures of the Asheville, N.C. music scene, in 2021 Zoe & Cloyd appeared in Season 5 of the PBS show, David Holt's State of Music. Their fourth studio album, Rebuild, was released on Organic Records in October 2021.
They often perform with a band that includes 2021 IBMA award winner Kevin Kehrberg on bass and 2019 IBMA Momentum Award winner Bennett Sullivan on banjo.
Learn More About the Artist
ZoeAndCloyd.com
Burnett Sisters Band with Colin Ray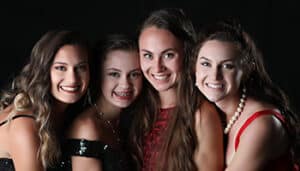 For The Burnett Sisters Band, it's all about family. ​Growing up playing music together in Boone, N.C., the sisters' sound is focused around the type of breathtaking vocal harmonies that can only come from the unique bond shared by siblings, expertly complemented by tight instrumental arrangements and a bona fide love of the traditional songs they play.
​With a repertoire that's equal parts old-time and bluegrass, country and gospel, this Billboard charting band navigates the diverse source material effortlessly, diving into the songs with an attention to detail and an appreciation for nuance that lends an authenticity and a feeling of genuine expression rarely matched in today's traditional music.
​With the release of their record, Long Way From Home, The Burnett Sisters Band has captured a snapshot of their eclectic live sound in the studio, with tracks spanning from Townes Van Zandt's "Colorado Girl" featuring Jacob Burleson, to Doc Watson's classic rendition of "Walk on Boy," featuring Wyatt Rice. The Burnett Sisters Band's freshman offering captures the polished, professional feel of their live shows that have wowed audiences across the country, and already the album is making waves, landing at No.1 on the Airplay Direct charts for the first week of February 2020 and hitting No. 5 on the Billboard Bluegrass Album charts.
Learn More About the Artist
BurnettSistersBand.com
ADDITIONAL CONCERT DETAILS
Gates open to ticket holders at 5:45 p.m. Season pass holders are allowed into the amphitheater 15 minutes early, at 5:30 p.m.
Bring a chair or blanket to sit on. You may bring a coolers or picnic basket, but no alcohol please.
Concerts are held rain or shine, and it can be cool in the mountains when the sun goes down, so bring a raincoat, poncho or umbrella, and a sweater or jacket.
Please note that advance ticket purchases are nonrefundable.
For more information, view our concert FAQs
SAFETY GUIDELINES FOR ATTENDEES
The Roots of American Music concert series is held in the Blue Ridge Music Center's spacious outdoor amphitheater on the Blue Ridge Parkway.
To make the experience as safe as possible, please stay at home if you have a fever, cough, aches and pains, loss of smell or taste, difficulty breathing, or are sneezing and coughing.
Concert attendees are asked to maintain six feet of distance between groups throughout the evening, including when standing in line and selecting seating locations in the amphitheater.